Ifeoluwa Gbadegesin needs no introduction,since his blockbuster movie "Ise Orin" in 2017 this actor, location manager, producer has exploded in the Nigeria film industry as a trail blazer, though rarely grant's interview TRUMPET INTERNATIONAL MAGAZINE was able to track down this Nollywood's icon.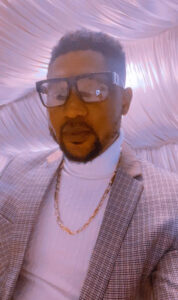 Trumpet: what was your first job in film and how did you progress to a producer?
IFEOLUWA: I started in the industry as an actor that was before the death of my boss Alade Aromire of blessed memory,after his death I had to change my plans,my first job was a location director which is the same as a location manager.
Trumpet: It is a common rumor in the industry that actresses seduced producers for roles, how do you cope with pressure?
IFEOLUWA: All you need is focus and avoid distraction,my actors are a replica of my script it's not easy to be a producer but what motivates me is determination and professionalism regardless of my relationship with my actors.
Trumpet: In the face of economic recession how do you manage your budget to give your fans the best and most quality production?
IFEOLUWA: Its not being easy as a producer this is the only thing I love doing and know to do best,we try our best to deliver the best to our fans homes.
Trumpet: What film project are you working on?
IFEOLUWA: The name of my coming movie is called AFESONA MI and I'm working on my next project which is OLORUN RERE.
Trumpet: Any advice for those hoping to pursue a career in producing?
IFEOLUWA: My advice to upcoming producers is for them to be focused and determined,these two words have different meanings only understood by the wise.
Trumpet: Say something about Trumpet international magazine?
IFEOLUWA:TRUMPET INTERNATIONAL MAGAZINE is true with reality they offer the best and put the best on the table ,it's a platform for upcoming celebrities.